Game of the Week
Tennessee Titans
vs.
New England Patriots
​

AFC Divisional Playoffs
​Saturday January 13, 2018
8:15pm EST on CBS

​Call Plays against current FOX NFL Analyst and former Super Bowl Champion Mark Schlereth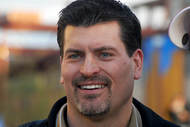 Mark Schlereth will be calling plays on Saturday night and will take on all comers during the 4th Quarter. Mark played guard in the NFL for 12 seasons (1989–2000) with the Washington Redskins and Denver Broncos - winning 3 Super Bowls in that time. He is currently a football analyst for Fox Sports.
---

$5 Starbucks Gift Cards
Awarded to all participants who outscore Mark during the 4th Quarter of Saturday night's AFC Divisional Playoff game between the New England Patriots and Tennessee Titans.