for the first time ever...
you are "in" an nfl game - live
Call plays vs. NFL Coaches against live game situations in real-time
For the First Time Ever...

Be The Coach (BtC) is an interactive, real-time coaching simulation game. It's authentic - allowing you to match play calls versus NFL Head Coaches in live NFL games. As game situations change in real-time during live NFL games, make a play call on your mobile device, iPad, tablet or computer and attempt to "outcoach" NFL Coaches and Coordinators.

register your free account now, call plays monday night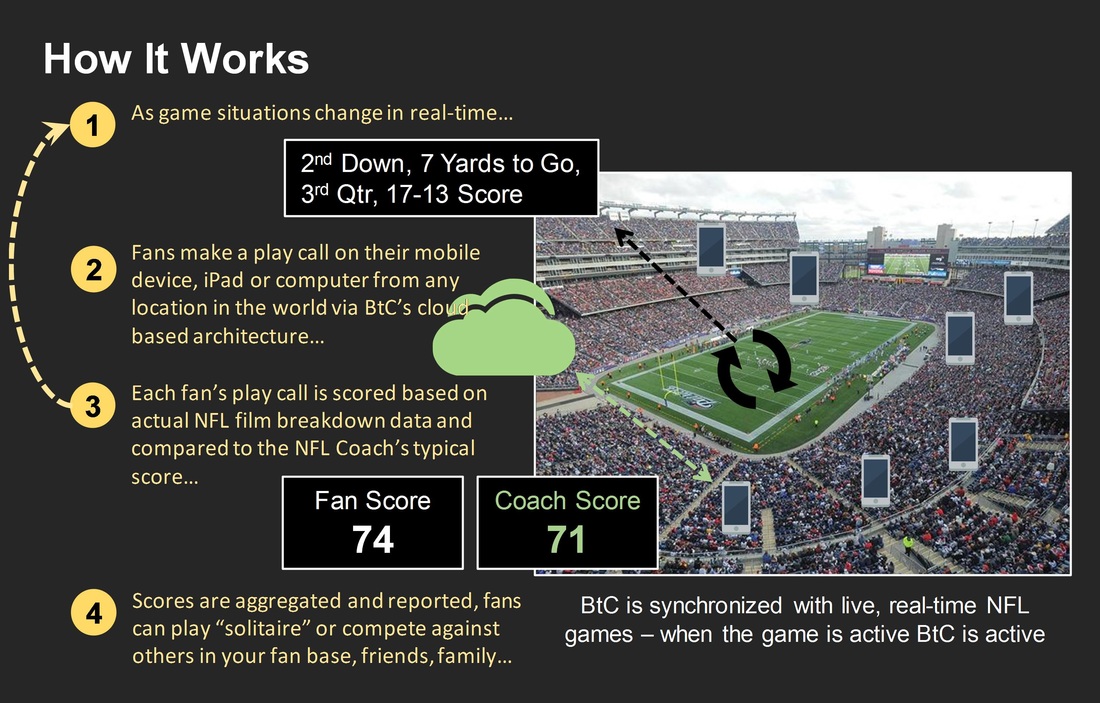 Patented Technology, Factual Results
Our unique technology has been developed over 15 years of working with NASA and the Aerospace & Defense Industry.

This same technology leveraged to support more than 100 football teams nationwide

Football is unique in among all sports. A single set of film scouting data contains millions of possible tendencies that can be exposed and exploited by coaches.

For the first time, this technology can be used by fans to Call Plays during live NFL games just like NFL coaches do. Your Play Calls are scored based on real film breakdown data. The results are fully legitimate - compete against NFL Coaches and their tendencies, play for a quarter, the whole game,

​or just in certain situations.
High Tech Play Calling
The game leverages innovative, one-of-a-kind scouting technologies that are sold to College and Professional football teams nationwide (including teams like the Arizona Wilcats, SMU Mustangs, Baylor Bears, Illinois, Oklahoma State, Yale, Dartmouth, and many others), and is based on actual film breakdown data for both teams. In addition to this interactive live game experience you'll have access to scouting tools that show you how each team has performed over their past three games - providing you with the insight and information you'll need to make your own play calls during the course of the game.
Compete for Prizes During our Beta Test
We are Beta Testing this system during Monday Night Football games this season. Each week your participation will make you eligible to earn small prizes, including NFL Shop Gift Certificates, Starbucks Gift Cards, iTunes Cards, etc.
One Small Step for Man, One Giant Leap for Coaching


Be The Coach leverages data analysis techniques that have been developed and honed over the past 15 years from the work we do in the Aerospace & Defense Industry. We work on behalf of organizations like NASA, Lockheed-Martin, Boeing, and the Missile Defense Agency to help them get the most out the data they collect and maintain. We bring those same techniques to coaches around the nation to help them quickly uncover game-changing tendencies in their scouting data, and now to you - the fan - to bring you into the game.